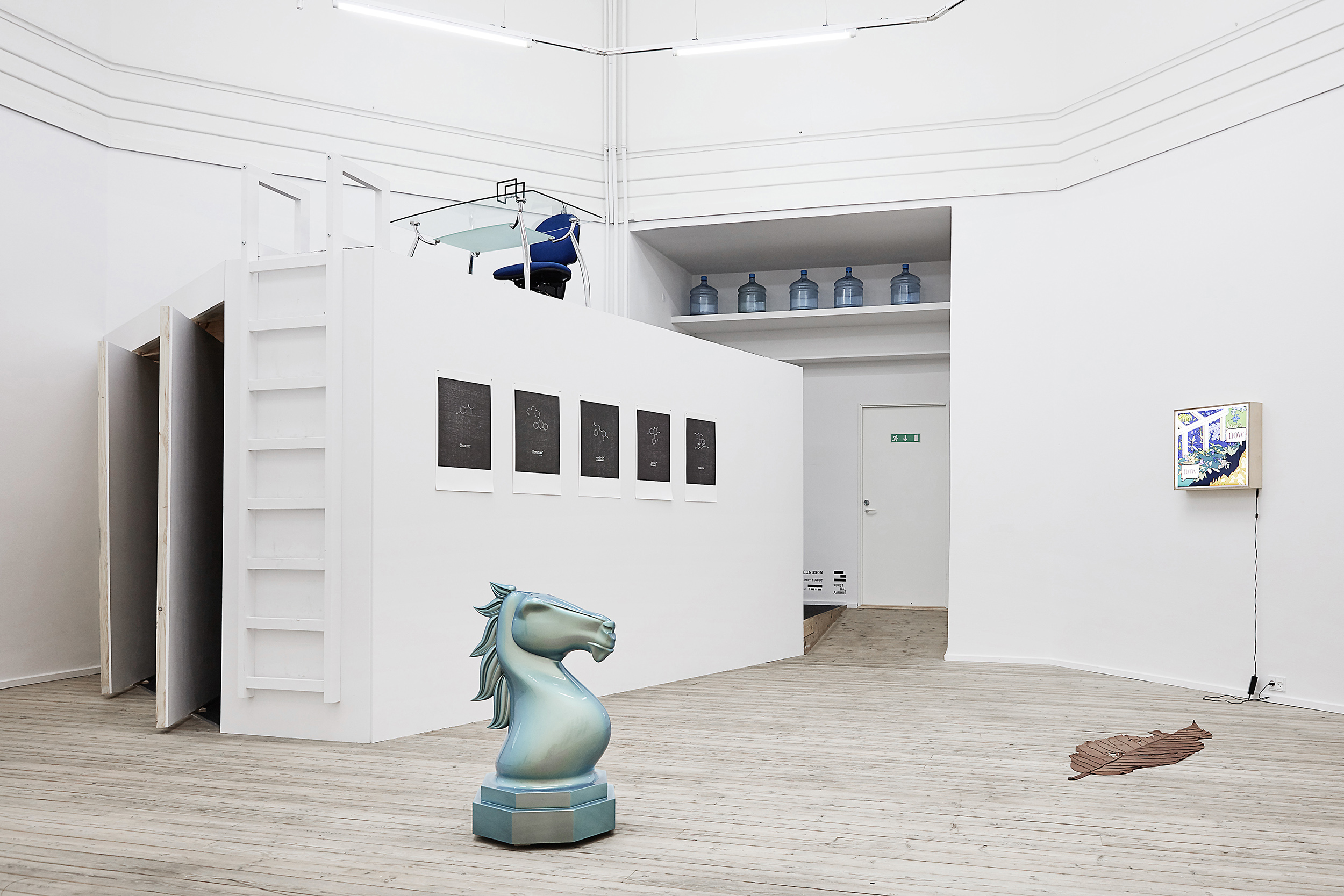 The Conference is a framework for the discussion of business affairs, manipulation strategies and future scenarios. The Conference presents a range of attitudes towards the production of images, value, escapism and contemporary mythologies. Utilizing gestures from the conference format, The Conference exhibits an environment oscillating between the enchanting and the disturbing, between desire and despair.
Taking numerous currents, events and notions into account, The Conference lays down a novel artistic and theoretical framework for interrogating our relationship to the daily radiation of politics and power structures that prey on our very existence. It proposes an interrelated vortex of themes, spanning all the way from depicting chemical compounds of various psychopharmaceuticals to presenting a special edition of ―rebranded‖ sweatpants for sale, accompanied by a promotional video, whose juxtaposition makes it unclear whether one perceives an artwork, an activist project or a business model.
While to some extend playful and humorous, The Conference also stresses the importance of addressing ethical issues, and thinking beyond one's own values and beliefs, to question accepted assumptions about our relationship to individual and societal identity production, commodification processes, power structures, the system of objects etc.
Like penetrating through layers of skin The Conference invites visitors to become increasingly immersed in the exhibition as it progresses from performative surroundings to sculptural installations, ultimately guiding into a cabinet of a video varieté. All together overseen by the creative-worker-as-exhibition-guard, elevated to the panopticon of the office area, this matrix offers you a tour in the realm of the controlled self.
It takes an archipelago of presenters to conduct such a delicate choreography; a terrain aiming at extending the concept of a conference rather than pursuing it. Hence, the following cluster of individuals that constitutes the group of artistic tissue encapsulating the premise of The Conference. A list of order, to be exact: LIFE SPORT, Richard Petrus, Viktoria Wendel Skousen, Adam Cruces, Piscine, Søren Thilo Funder, Martin Kogi, Min Yoon, Sidsel Meineche Hansen, Maria Meinild, Louise Haugaard Jørgensen and Christine Overvad.
–
Facebook
–
Kunsten.nu

























Photo: Kaare Viemose. Copyright and courtesy of Piscine.