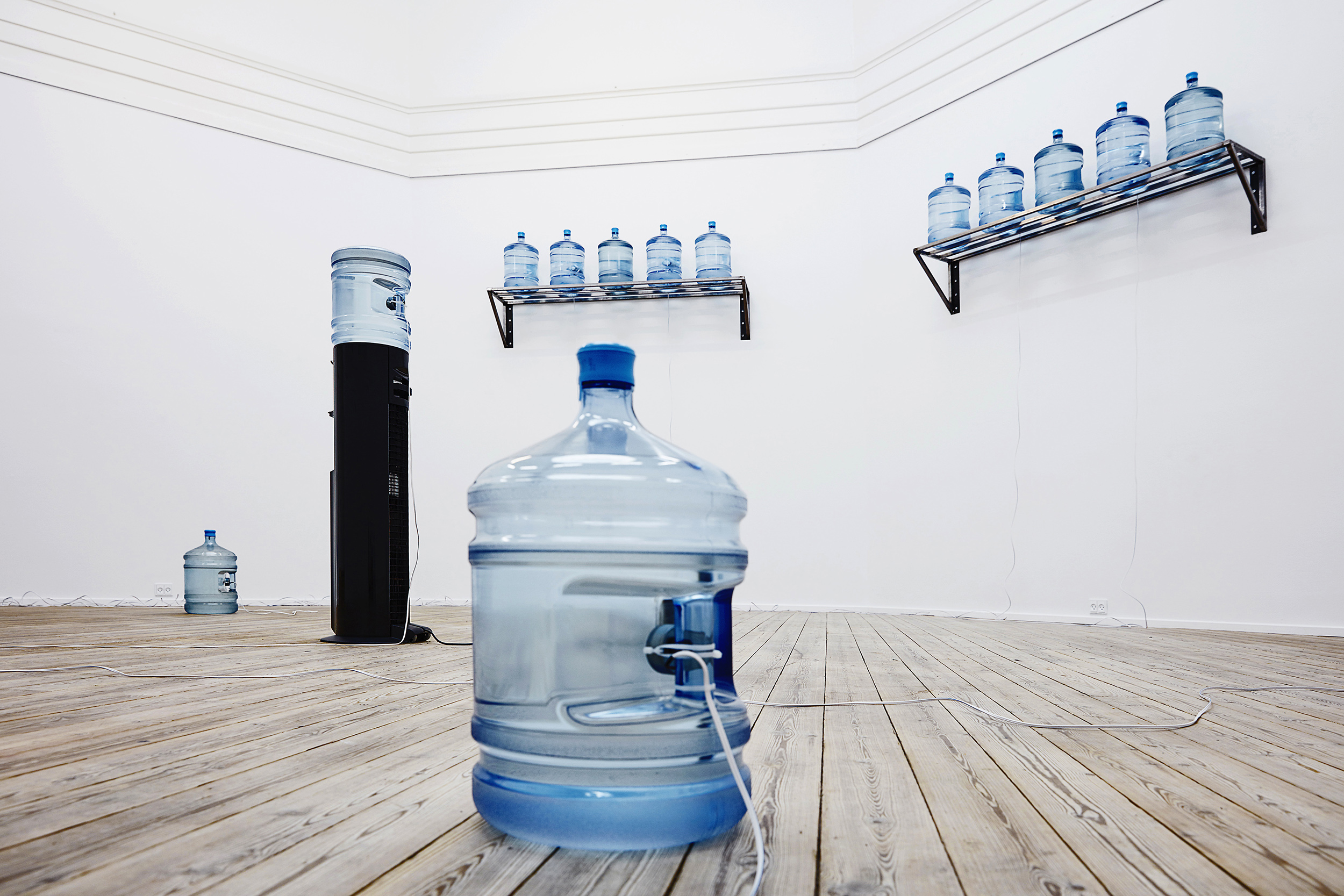 'The Weather is too Predictable' presents a sterile and minimalistic room with big, blue water bottles placed on the floor and on shelves hanging high on the walls. A water dispenser is placed in the centre of the room and offers visitors seemingly normal water. However the dispensed liquid later reveals a bitter, medicine-like taste.
Besides the physical elements, a key aspect of the installation is a soundscape. Surface transducers are attached to the water dispensers, infusing liquid and plastic container alike with mechanical vibrations. The sound is thus filtered by its radiation through the material. The sound is looping through 12 channels creating a landscape rather than a narrative, as the looped soundscape has no definite beginning or end, playing fragmented elements woven about one another in seemingly meandering patterns. A transgendered voice appears fragmentarily, delivering short announcements such as: "Have a taste", "Soft Mangament Sex Machine" and "On-demand French Alp Flavour". The loop plays an important role in the installation, and the visitor becomes part of exactly that loop when having a taste of the water and afterwards disposing of the plastic cup in the bin, which presents another sculptural element in the room.
Rather than presenting actual images, the viewers own process of imagining is a main concern of the exhibition. Through the non-visual elements of sound and taste combined with the minimal expression of plastic bottles and water, 'The Weather is too Predictable' engages in creating mental images using glossy, verbal imagery presented by the fragmented and distorted, however omnipresent voice. The installation activates a cloud of images of environments and situations, oscillating between ideas of 'clean' and 'serene' nature, countered by sterile office environments and decadent consumption. All with the bizarre and dystopian as an underlying current.
The soundscape was created in collaboration with sound artist, Sebastian Edin
–
Press
Kunsten.nu: "Piscine som flagskib for et nyt kunstmiljø i Aarhus?"
IDOART.dk: "Piscine: Fra Passé til Parasit"
Kunstkritikk.dk: "Kunstefteråret i Danmark"
–
Installation views




–
Foto: Kaare Viemose